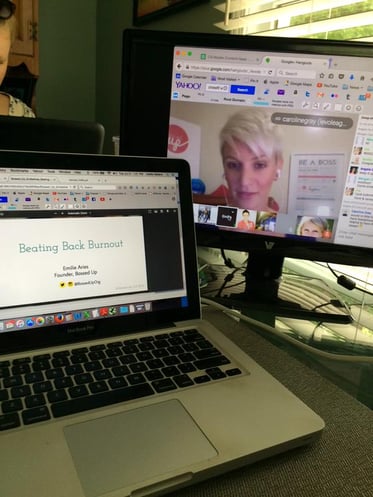 Every month Levo Leaders from around the country have a conference call where we can touch base with each other, recognize each other's achievements, and host guest speakers.
This month I hopped on to the Levo Leader Call to do some #LevoLearning to beat burnout with guest speaker Emily Aries, founder of Bossed Up (an organization that helps "women beat back burnout and navigate career transition").
Emily talked to us about what burnout is and what you can do stop it! Here's a sneak peak into my world as a Levo Leader and some of the perks that come along with it. I present to you 5 tips for nipping burnout in the bud from Bossed Up and Levo! Thanks Emilie for your inspiration to get out of burnout.
But before we start...
What is burnout?
According to the American Psychological Association, burnout is a state of chronic stress that includes feelings of:
Physical and emotional exhaustion
Cynicism and detachment
Ineffectiveness and lack of accomplishment
How do I know if I'm burnt out?
Go to the Bossed Up site and
take the quiz
to see if you're "Bossed Up or Burnt Out."
How can I beat back burnout?
Discover what triggers make you feel this way: What triggers your stress is very personal to you. Self awareness is key. . Pay attention to what's going on when you feel particularly stressed. Have you lacked in making time to eat healthy, or exercise as much as you usually do? Are you creating healthy boundries to be treated with respect by your coworkers? These are all contributing factors to stress. Use the Levo app to find your strengths: Identifying strengths is helpful. It presents what areas have room for improvement. When you identiy your weaknesses, you can focus on them becoming stronger. Stress can be caused by feelings of inadequacy. Feeling more self assure can improve your life personally and professionally.
Write down 10 things that give you life: What never fails to make you smile, feel powerful, calm, or fierce? Write it down! Put onto paper 10 things you could do, watch, or listen to that give you a spark throughout the week, day, or even the next couple of hours. Eat lunch: In fact, eat breakfast, lunch, and dinner. The message in these tips have been mostly about nourishing your soul. That's possibly when nourishing your body first. If you skip meals, you can't focus. If you struggle to focus, it's difficult to be productive. And if you don't get anything done, you'll feel inadequate and stressed. It's a pretty quick downward spiral to feeling burnt out that can be avoided by eating lunch.
Plan out your day: Specifically, plan gaps of time and allow yourself to breathe and rest. Use a timer. Work hard for 90 minutes and take a break. Eat a piece of chocolate, watch a cute youtube video, or call a non-work related friend or relative. Give your brain a chance to pause so it doesn't overheat. It will thank you in the long run.

So many talented, ambitious, career-minded women are suffering from burnout. You don't have to be one of them!
Make it a necessity to take care of yourself. Learn yourself, your strengths, and what drives you. Fuel your body, and make time for it to rest. Burnout is completely avoidable, if you've armed yourself with the tools for beating it back!
---