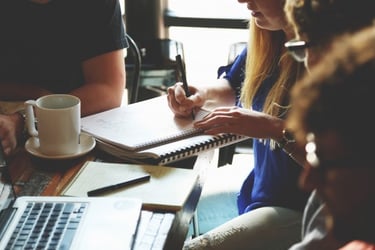 You've got the SMART Goals template completed and know what specifics you want to achieve through the Marketing Planning Process. There's another thing you can do to be succesful and strategic. Put together an all-star team.
Here are five people you can bring on to build a team and ensure marketing strategy is top-notch:
Inbound Marketing Expert
This is someone you want on the team to manage the content you're posting, create leads, and create automated marketing strategies. The inbound expert's responsibilities are things like creating a content calendar for your blog and social media posts. Managing calls-to-action and landing pages, automating email, content, and social media activity. This person works closely with the content marketing expert, graphic designer, and developer. They keep your team organized, and focused on marketing goals.
Content Marketing Expert
This is your teammate that's doing the content creation for your blog, email, web content and social media. They take what's been given by the inbound expert and implement. Your content marketing expert is responsible for pumping out digital content often and at regular intervals. Posting relevant content on various channels including blogging, email, social media regularly, and doing research. It is very important to make sure they're posting helpful and relevant contect to your visitors. This person is taking plans and goals you and your team have created and putting them into action.
Web Developer/Designer
You need a web developer to make sure that your website is up to par. Having a professional-looking, solid UX, and overall well done site can set your brand apart in several ways. The web developer is responsible for implementing both code and design standards for your website. They collaborate with other team members to make sure they're getting what they need to market effectively, and creating web project management the team can use. Having a web developer on board ensures that your online presence is polished and professional.
Graphic Designer
Having a graphic designer on your team can do several things to improve your brand online. This person can create cool, authentic graphics that can enhance your content and take something off your plate. A graphic designer can also create templates for your blogs, ads and social media posts. Finally, this person can be responsible for designing presentations and signs affiliated with your brand.
Event Planner
Having an event planner can be a huge load off your back, if you do plan on hosting events. Event planners help you take marketing efforts offline to create an ALLbound marketing effect. An event planner is responsible for organizing all aspects of the event (the venue, refreshments, and speakers) ahead of time. An event planner sells tickets and promotes your events to your customers, or target audience. They make sure that everyone at your event is occupied and satisfied. Having this person on your team is necessary if you want to stay sane while hosting or creating an event.
---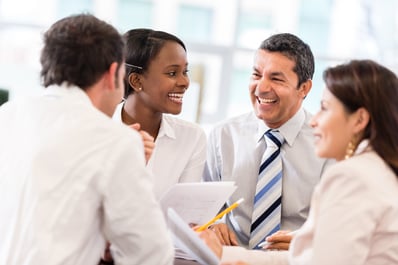 Bringing together a team of experts can ensure that you achieve your SMART Goals and are succesful in the marketing planning process. Hiring someone could be the one thing you need to reach your goals. This list is just to get you started. There are many other roles that can fit into a digital marketing team.
Need a different kind of expert on your team? Hubspot has a free, comprehensive list of Ready-to-Use Marketing Job Descriptions to download and perouse.
---