---
You're good at what you do. You know you're good at what you do. But you might be having trouble showing other people you are. Bring in a digital marketing expert to help you spread the word about your business. All is well, until you realize you have no idea what this person is talking about when they say SEO.
If you're new to the world of digital marketing, you've probably heard some terms that have left you baffled. Let's be honest, not everyone is digital marketing jargon savvy, and sometimes the experts can get so busy talking that they'll leave you in the dust trying to figure it out. It can be overwhelming. Take the time to learn some of the terms. They can do amazing things for you and your business's online presence.
In this post you'll learn about SEO, or Search Engine Optimization.
Let's get started!
---
So, what is SEO?
No, it's not the head of a company, or that singer who wants to swing from the chandelier.
It stands for Search Engine Optimization. Just a fancy way of saying that a website is easily understood (and ranked higher by) commercial search engines. According to Moz "SEO is a marketing discipline focused on growing visibility in organic (non-paid) search engine results." This means there are tactics and practices you can use in the content and web development to increase web traffic, for free, through search engines! It can be done!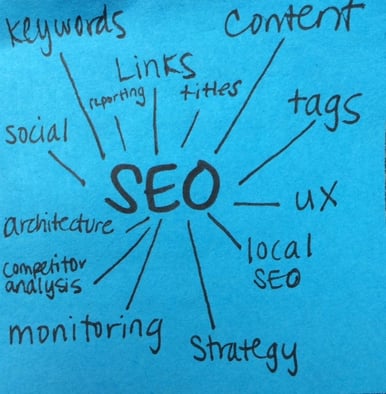 You might be asking, how do I do it?
There are different guidlines for optimizing your site for each different search engine. We're going to focus on what to do for optimization in Google.
First, you need to know the two types of SEO.
On-site SEO and off-site SEO
Today we are going to focus on the basic aspects of on-site SEO.
1. Create your website with the user in mind 1st, NOT the search engine.
Google ranks first by relevance, then by popularity.
Your site won't be very popular if it's not user-friendly. Don't try to trick your users, or the search engine. It will not work well for you in the end... and could result in a penalty.
2. Have clear links and relevant keywords for every page.
You should be able to reach every page on your website from a link and within just a couple of clicks.
Preferably those links will be in plain sight and well-organized on your homepage. Every page needs a keyword focus! Make sure that keyword is in the title, meta description, image alt-tags, and the page content.
3. Make sure titles, meta descriptions, and image alt-tags reflect the content.
Make sure you have accurate and descriptive keywords.
4. Make sure the URL has your keyword in it.
Your URL should definitely contain your primary keyword, and also be readable by the general public.
That means not just a bunch of numbers and symbols, but real life words!
ACTION STEP: TAKE A LOOK AT ONE OF YOUR WEBSITES INNER PAGES [EX: SERVICES PAGE]. LOOK TO SEE IF YOU HAVE THE FOLLOWING:
Simple user experience
Easy to find from homepage
Keyword focus
Keyword in URL
Keyword in title - title has 60 characters or less
Keyword in meta description - meta description has 160 characters or less
Keyword in images used (following image alt-tag best practices)
Internal and external links using keywords
This is really just a dip of the toes into the world of SEO. There's so much more to learn and do to really improve your website's search engine ranking. Want to learnn more right now? Check out this free Beginner's Guide to SEO from MOZ or schedule a complimentary consultation.