Looking back
Looking back on 2016 I have mixed feelings on how the year went. It is hard to say whether it was good or bad because it felt like an upside down roller coaster with lots of twists and turns sometimes ending up in a black tunnel, other times ending up with butterflies in my stomach screaming with excitement.
This email includes personal reflections of 2016 as well as an ask to support the LUNGe 5K I'm running in coming to Charlotte on May 20.
Mid January of 2016 my boyfriend David (now fiancé)'s mother, Doris was diagnosed with lung cancer. To say it was emotional, shocking, and a sucker punch to the gut for everyone in her life is an understatement.
I never imagined being so close to a boyfriends parents, but I am grateful to have David's family in my life. Doris is a special individual that I cherish deeply. The things I have learned through this journey is priceless.
10 lessons that stand out the most to me is:
If you have lungs, you CAN get lung cancer

One is a survivor the minute they are diagnosed with cancer
How valuable having a tribe is
Understanding who is in your "core" group
Quality is almost ALWAYS better than quantity
Meditation is crucial for mental, physical, and emotional health
Diet makes a SUBSTANTIAL difference in survival
Silence and a hug can go a long way in times of grief

Don't be afraid to talk about the uncomfortable

Life is too short to wonder what if. LIVE YOUR LIFE!
To read more about here journey, check out this post from lung cancer awareness month (November)
February is the month of my birthday. It just so happened that Doris' was having surgery ON my birthday (Feb 26). It was supposed to be a pretty standard procedure and she went into it with the mentality that it was going to cure her. Little did I know that the standard procedure was going to lead to Doris being officially diagnosed with Stage 4 non-small cell lung cancer (adenocarcinoma) with the EGFR Exon 19 deletion. The cancer had spread to the lining of her chest wall. Everyone who knows Doris was devastated.
March was the month of madness. Wrapping our head around our new normal was a tough cookie to swallow. I learned a lot about myself and my relationships during this time. Our friends and family could not have been more supportive. We are extremely lucky to have a support system like we do.
April turned out to be the month of meal-trains, adjusting to the dynamic of a traditional work environment consisting primarily of men, teaching my second ever Grow Your Brand workshop with national tech education company Tech Talent South and attending the first of several weddings for the year. I am most proud of developing and distributing a workbook I developed to coincide with my 8 hour workshop and am looking forward to teaching in Atlanta, Asheville, Raleigh, and Charlotte in 2017. TBD on New Orleans, Phoenix, and Dallas.
May was an exceptionally exciting month filled with being a partner and having a booth at Digital Summit Charlotte and enjoying a week long trip to the Outer banks where David proposed at Cape Hatteras lighthouse! I was certainly shocked because he had me convinced it was not a priority. If you ever need someone to keep a secret, he is your guy. David and I got together my last semester of college (2011) a few months after we met at a bar in uptown Charlotte (on the dance floor) when our roommates ran into each other. Overall, we couldn't be more excited to get married late summer 2017 in Asheville. We came back last May engaged and ran our first LUNGe Forward 5K.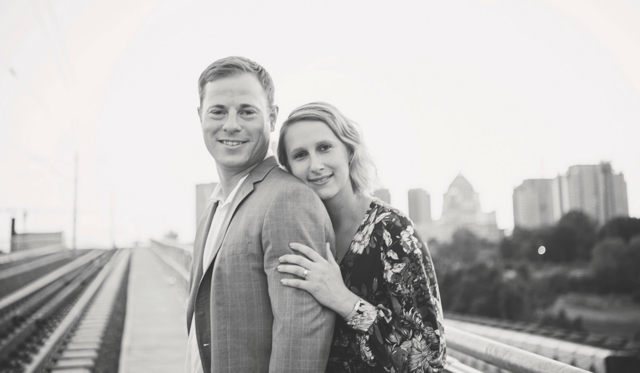 July's highlights consisted of lake days and a trip to Asheville with David's parents where we picked out our wedding venue. By this time, Doris' medicine had kicked in and she was regaining her strength and energy. She will be on some form of chemotherapy for the rest of her life, but this form is improving her quality of life not diminishing it. It is interesting the reacitons people have about cancer and the amount of people who avoid talking about it.
August included a bachelorette party for a dear friend Katie whose wedding I was in, working on my first trade show booth design, a beautiful engagement party hosted by our friends, and some more news of cancer.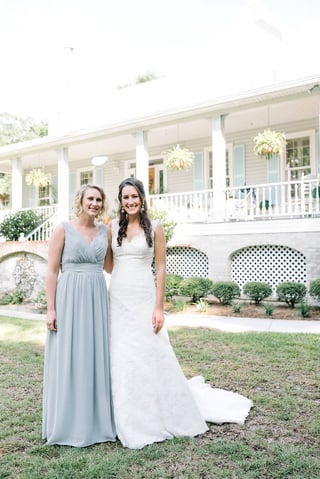 Katie Fadero Wedding | September 2016
My next door neighbor Lana, who is like a god mother to me was diagnosed with stage 2 breast cancer. Lana and her husband Jim have lived in our neighborhood for years. Their kids went to Plaza Midwood preschool with David and I. David grew up going to school with them, playing sports, and hanging out around the hood.I however did not truly get to know them until we moved in next door. It felt like I had known them my entire life. They took me in as if I was one of their own.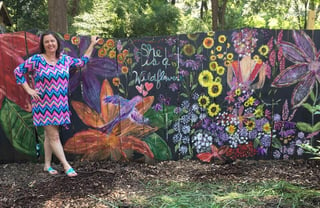 Lana in front of a portion of our neighboring fence after we painted for Yard Art Day!
All I can say is THANK GOD Lana got a mammogram and caught it early. She finished up chemotherapy before the holidays and is on the road to recovery.
October and November were FULL of traveling. I attended conferences from Winston-Salem, to Indianapolis, to Boston, and Raleigh. My friend and bridesmaid Liz had her bachelorette party in Fort Lauderdale.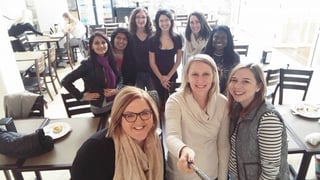 Women In Tech Breakfast at the Inbound 2016 conference | Boston, MA
David and I celebrated our Spooktacular Soiree Engagement block party hosted by David's parents and neighbors. We could not have pulled off such a fabulous party without a lot of help. This was our way of celebrating with our local friends and family since we will be having a smaller destination wedding. We are DEFINITELY loved.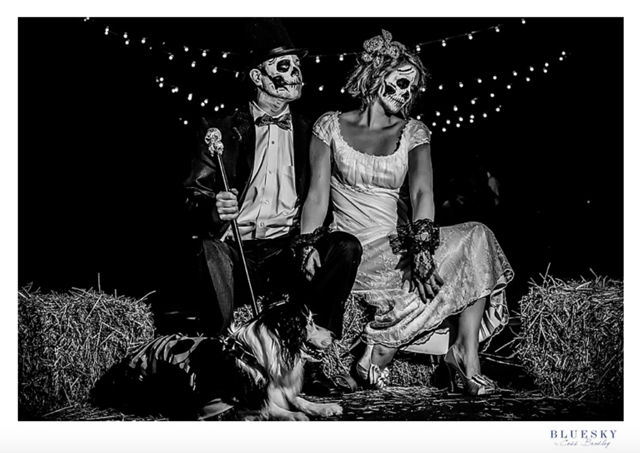 Photography by Cass Bradley
Fast forward to May 2017
2016 was a wild year but 2017 has been a fresh start with a positive outlook! We are 15 weeks away from the Castevens-Sellers wedding and less than 2 weeks out from the LUNGe Forward 5K.
This is our second year running the race and my personal goal is to raise $500. There are 12 days left to give. Our team has a goal of $6,000 and to get 35 team members. Doris and Lana are both doing well with good spirits and intend on walking the 5K.
Let's do this!

LUNGe Forward 5K 2016
---
About the LUNGe Forward 5K
As the state's leading non-profit organization supporting lung cancer research and education, the Lung Cancer Initiative of North Carolina specializes in connecting patients, survivors and loved ones with the medical and research community. Our mission is to decrease deaths and provide support to those affected by lung cancer through research, awareness, education and access programs across North Carolina. For more information about our organization, events and programs, please visit our website: www.LungCancerInitiativeNC.org.
---
Subscribe here to my recent news and updates to continue keeping up with my journey.
Thank you for your continued love and support. You are awesome.
- Caitlin
P.S. Cheers from Oliver!