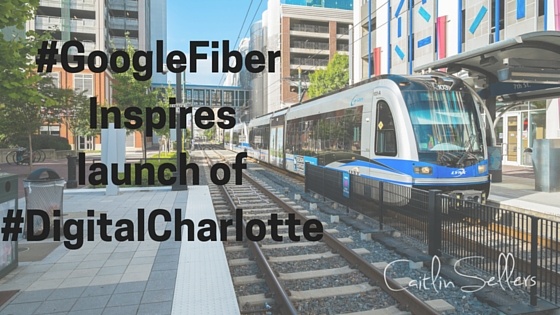 #GoogleFiber construction has started in Charlotte and the city is starting to change how it connects and communicates, both on and offline. The launch of Digital Charlotte is critical to the expansion and inclusion of the Charlotte community. #DigitalCharlotte
IT WAS JUST A RAINY TUESDAY IN SEPTEMBER...
I asked my digital marketing assistant Alex the night before if she could meet up an hour earlier than we'd previously scheduled--I had a little trick up my sleeve.
When she got to my house and started her routine of unpacking her bag for the day, I stopped her with one phrase: "The Uber's here." Within moments we were headed to the Charlotte-Mecklenburg Government Center for a Digital Inclusion Workshop to learn about the expansion of #GoogleFiber. Little did Alex know, we were getting involved with #DigitalCharlotte and its efforts to bridge the connectivity gap in our city.
#GOOGLEFIBER
You've probably heard that Charlotte was selected as an upcoming #GoogleFiber city, but what does that mean?
First off, what is Google Fiber? It's "super fast internet": a connection of up to 1,000 megabits per second. (Most mid-range internet offers between 18-24 megabits per second.)
Why does faster speed matter? This vast increase in speeds makes accessing the internet seamless and downloading far less frustrating, which creates a climate of connectivity far surpassing anything we've ever seen in Charlotte.
Google Fiber is going to completely re-map the digital makeup of Charlotte, but without digital inclusion not everyone will benefit from the new service.
DIGITAL INCLUSION
What exactly is digital inclusion? According to a framework put together by the Institute of Museum and Library Services, digital inclusion is:
The ability of individuals and groups to access and use information and communication technologies.
Digital Inclusion encompasses not only access to the Internet but also the availability of hardware and software; relevant content and services; and training for the digital literacy skills required for effective use of information and communication technologies.
Digital inclusion means that everyone in a community--from top to bottom--can easily access the Internet and take advantage of the resources that connectivity makes available. In early 2015 #DigitalCharlotte began working with several partners (AKA stakeholders) in the city to integrate digital inclusion into the foundation of our growing digital city.
#DIGITALCHARLOTTE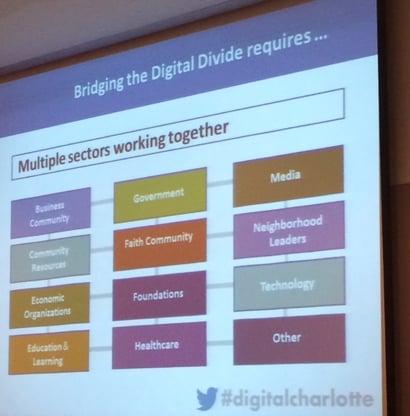 A partnership between many local stakeholders, #DigitalCharlotte is a collaboration that seeks to improve our local community by providing valuable resources and creating conversation.
The stakeholders of Digital Charlotte cross a wide array of sectors in the community, including local government, businesses, educators, Internet providers, and community members that are committed to ensuring every faction of the city can benefit from new and existing digital opportunities.
Digital Charlotte is integrating several initiatives in digital literacy such as:

Tutorials like "how to send an email"
More comprehensive educational tools in community workshops
"Technology tutor" sessions, such as free one-on-one meetings to address specific digital problems.

The Digital Charlotte organization is striving to bring digital literacy skills to all members of the Charlotte community, while pushing the Charlotte community forward to a common digital environment that can benefit all of its members.
DID YOU KNOW 19% OF CHARLOTTE HOUSEHOLDS DO NOT HAVE INTERNET ACCESS?

Charlotte's commitment to educating and linking individuals and organizations in the community makes #DigitalCharlotte an extremely valuable resource for anyone interested in improving their own digital literacy and the connectivity of the community as a whole.
USING DIGITAL TO BUILD THE CHARLOTTE COMMUNITY
The Internet is now regarded by many as a utility equally as vital as power and water. Why? Internet is the easiest way for individuals and organizations to connect and present themselves for success, and the adoption of digital resources is the next threshold in building the Charlotte community.
Digital connectivity presents the ability for business owners and individuals to educate themselves, reach out into their communities, and become successful.

It allows communities to connect and grow by facilitating and maintaining conversation.



Efforts to improve access and educated use of digital resources can affect every faction of the Charlotte community including individuals, educators, businesses, and every sector in between.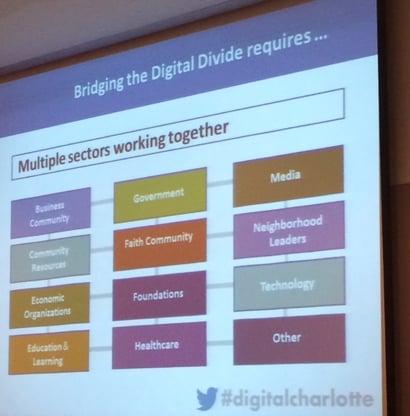 HOW #DIGITALCHARLOTTE WILL AFFECT COMMUNITY MEMBERS, BUSINESSES, DATA, EDUCATION, AND OPPORTUNITIES
Bringing various sectors of the community together for the common cause of connectivity and digital literacy, #DigitalCharlotte and the introduction of #GoogleFiber will not only help Charlotte individuals but also create opportunities for new & existing businesses to sprout and grow in all industries.

As #DigitalCharlotte develops and intensifies, so does the Charlotte community. As the Digital Charlotte stakeholders strive to bring access, hardware, software, and education to those without the resources, our city gains strength and tenacity.

Each individual and organization, big and small, benefits from every step to traverse the digital divide. Google Fiber and #DigitalCharlotte are working together to create new opportunities for community members to empower themselves and citywide progress in a growing digital world.

*Images are from Digital Inclusion Workshop