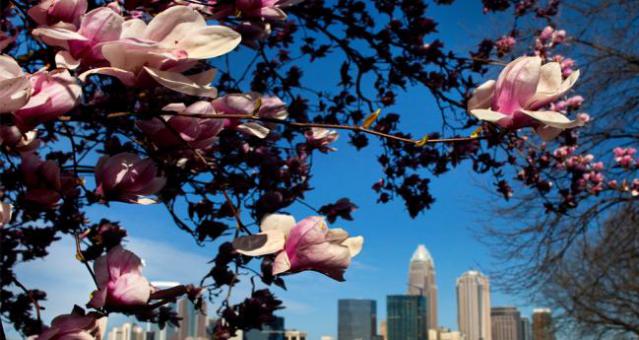 FINALLY!!!! The weather is beautiful. One of my favorite things to do is look at all of the blooming flowers and especially the cherry blossom trees lining the streets.
Today I enjoyed my lunch outside in Dilworth off of East Blvd.... talk about vitamin D in 70 degree weather! Al fresco dining reminded me of how soon Dine Out Charlotte's first ever Spring Restaurant Week is (April 12-21).
There are many great aspects I admire about this spring restaurant week:
The 30+ participating restaurants are all LOCAL.

The type of restaurants participating have a wide variety and a price range including 3+ courses at around $22-$32....affordable for anyone!
The $2 proceeds go to Charlotte's Second Harvest Food Bank of Metrolina's Child Hunger Programs. One of the Child Hunger Programs to benefit includes the Johnson & Wales Kids Café Prepared Meals program.
Dineoutcharlotte.com allows you to:
Book in advance
See what pocket of Charlotte, NC (neighborhood) the restaurant you want to enjoy is in
The price tag
The type of cuisine
The menu itself
Al Fresco (outdoor) dining (They ALL do!)
I am so excited to see locals thriving in the community. I am so proud to see my hometown city growing rapidly. The Queen City is the best place to be in the spring! Get excited for the newest type of restaurant week Charlotte has to offer.
To all you foodies out there, appreciate the beauty of dining local!