Do you find your head spinning because your to do list is never-ending? I do. Are you the kind of person who has lists everywhere? Or not?
Whatever kind of person you are, we all have to do lists whether we like it or not. The question is how well do you keep up with it and how efficient are you? Does it take you light years to get things accomplished or is your turnover pretty quick? Whatever type of person you are, time flies and you're the pilot.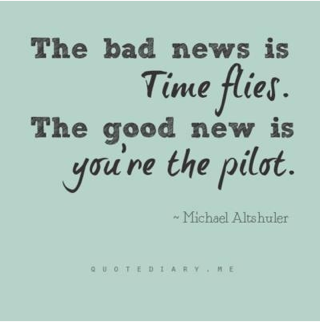 Here are tips for those in need of time management help:
Have one place where you keep one to-do list. Personally, I keep mine in my phone. I (hopefully) won't lose my phone and I won't waste time re-creating lists already written.
Give yourself realistic deadlines. Seriously. I am the type of person that if I don't have a deadline, I put it off the longest.
Prioritize daily. Take a look at your to-do list and choose 3-5 things that are MUSTS for your day. Rank them and cross those suckers off when finished.
Celebrate accomplishments. Whether it is raking the leaves in your yard or completing a huge report for work, everyone needs a little praise in this world! Something as simple as putting extra marshmallows in your hot chocolate. Be proud of hard work!
Have someone other than yourself hold you accountable. This might sound kind of silly because you should be able to hold yourself accountable... however, if someone else is relying on you to get it done by a particular time, you've got a little pressure.
Consider an exception because it depends on the task and the person. I've seen many people do something as simple as posting it online to "tell the world". They told everyone and now they need to follow through. Example: Working out seems to be one of those "hold yourself accountable through social media" kind of things.
What are some of your tips for time management? Are you the post it note queen (or king) OR does someone else have to stick a post it note to your forehead?