Hashtag (#) is a tiny symbol with a lot of power. It's like the espresso shot of social media. Finding the best ways to use it for your company or personal brand can take on a new level of audience participation. As more people incorporate live-tweeting into events and conferences, the more useful hashtags become for connecting your audience. There are also plenty of uses in daily social media posts.
In this post you're gonna see a lot of Starbucks!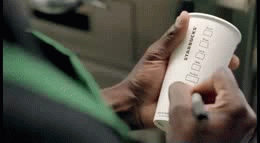 That's because Starbucks consistently uses hashtags on its many social media platforms to develop its brand and create a community around its product. Basically @Starbucks is a killer example of hashtag efficiency.
Brand Recognition: Find a word or phrase you want people to associate with your brand or business. For Starbucks, everyone knows their name. Instead, the company has been pushing it's new instant coffee line, #StarbucksVIA. Check out how they consistently drive the name home in tweets.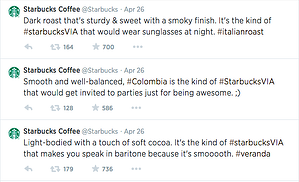 Campaign Release: Once you get brand recognition consistent you can introduce new hashtag campaigns. Campaigns are usually a temporary or recurring event or promotion to generate audience participation. @Starbucks has been hugely successful with its #WhiteCupContests. Customers doodle on cups, snap a picture, and hashtag their entry. Starbucks creatively generated online content and customers get to show off their creativity. It's a Win-Win!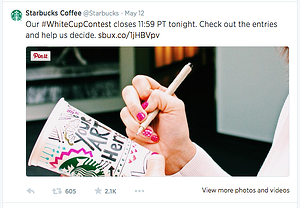 Trending: Evaluate your audience size by using hashtags that are trending. Make sure the hashtags are relevant to your brand and/or campaign. Check out how @Starbucks uses the #ProTip hashtag to share real-tips that ultimately take you back to coffee.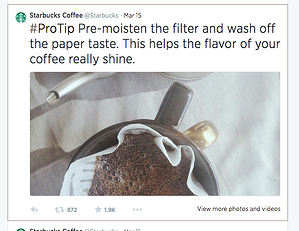 Categorizing Content: Easily describe a feeling or thought in a shortened way be utilizing a hashtag. This needs to be relevant to the post or image you are using. Typically this is more of a generic term or something that is trending, not necessarily a branded hashtag. @Starbucks uses #cafeespresso #mixandmatch and #travel in the example below. *Do you know what #regram means? Urban Dictionary describes it well.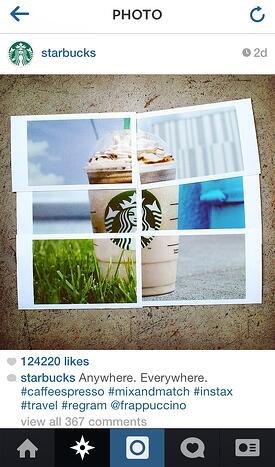 Happy #Hashtagging, I'm off to get some Starbucks!