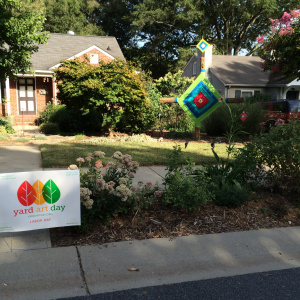 Making art and making friends came together in a beautiful way during the recent Yard Art Day event in Charlotte. Every year on Labor Day weekend, families are encouraged to create some sort of art that is visible from the street. Some people choose a design or piece that represents their family or community while others jump at the opportunity to do something completely off-the-wall. For 24 hours the neighborhood comes alive in an eclectic and unique way.
My neighborhood, Plaza Midwood seems to be one of the most enthusiastic about the event. This year was the first time I decided to get in on the fun.
We wanted to have a little fun with our fixer-upper, and we were excited to have the opportunity to work together with our creative neighbors, Jim and Lana Rubright of HJP Properties and Brushstrokes Design Studio.
We decided to use the fence that bridges both our properties as a canvas. Some paint, steady hands and some twinkling lights turned our wooden barrier into something straight out of Neverland.
Big thanks to Yard Art founder and organizer, Deborah Triplett. Check out the Yard Art Day website for more information on the event and Deborah's vision for the community. And just for fun here's a few more pictures of some of my favorite front yard art in the Plaza Midwood neighborhood.
Enjoy and don't forget to sign up for 2015!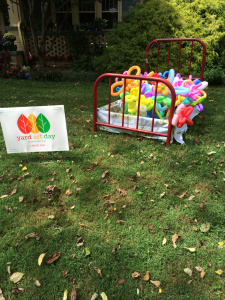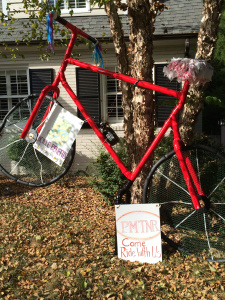 The Plaza Midwood community is always up to something. Next week we've got an opportunity to give back and meet your neighbors. Midwood Gives Back will meet in Midwood Park September 20th to pass out canned goods and do volunteer work. If you can't be there in person there are plenty of ways to give back.
Such an awesome month to be a part of this neighborhood.