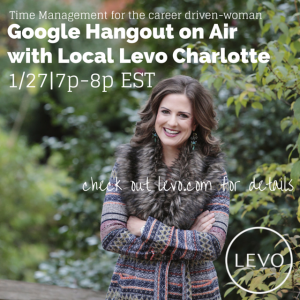 Have an hour of spare time? Great! That's all you need to spend some time with Local Levo Charlotte, getting Time Management tips from, Productivity Expert, Carson Tate. Join Local Levo Charlotte for a Google Hangout on Air January 27th (Tuesday), 7p - 8pm EST.
You can watch the GHO here (or click the picture). We'd love for you to join us live. If you've already got plans, don't sweat it. You can watch the entire chat anytime by following the above link.
Fresh off her newest book release, Carson has great tips to streamline your professional and personal life through productivity focused on time management. Carson encourages anyone watching the event to take her productivity assessment prior to the conversation [listed below]. She will also highlight her new book, Work Simply. The newly released title has even more advice for the career-minded woman and how to improve your quality of life through her best practices.
If you want to do some preliminary exercises, Carson has a special free offer just for our participants: a productivity style assessment, which allows clients to identify their Productivity Style and then learn specific strategies to simplify, streamline and organize their workflow.
Participants can access the Productivity Style Assessment link using the link and password below:
Access: http://sgiz.mobi/s3/CARSON-TATE
Password: CTsimple14
Engage with us on social media through our live tweet up @caitesellers with #LocalLevoCLT, @LevoLeague, @thecarsontate, #WorkSimplyLiveFully. Keep checking Local Levo Charlotte for new events geared specifically to the Queen City's career-minded women.