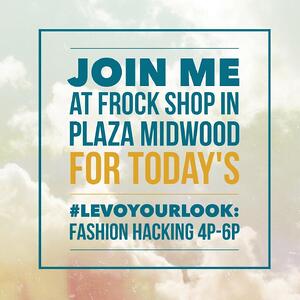 Join Local Levo Charlotte and Frock Shop today for #LevoYourLook: Fashion Hacking. Everyhting tips and tricks to transition your wardrobe into the fall season. Sunday (today) from 4 - 6pm at the beautiful home of the Frock Shop in Plaza Midwood, Levo ladies will learn secret fashion hacks that can help you freshen up your look for fall and streamline your work routine.
From the chill of the morning frost, the polarizing roar of office air conditioners and the ever-present fall drizzle, it can be tough to pick the perfect outfit for Charlotte's unpredictable seasons.
Frock Shop owner and fashion goddess, Caroline Cook-Frers will share her style secrets to help you develop your own unique grab-and-go look for fall. The focus of today's tutorials will be styling your work attire. Caroline will divulge ways to speed up your daily routine, and feel good about your outfit all day long. We're also going to go over some amazing pointers on how to store your spring and summer clothes.
Come out to the Frock Shop (901 Central Avenue, Charlotte, NC 28205) today from 4 - 6pm and bring a friend! Local Levo Charlotte is excited to offer this free Fashion Hacking that will keep your favorite duds fresh for years to come!
Want to keep up with Local Levo Charlotte on a regular basis? You can create a profile on www.levo.com and get clued into events and tutorials happing in Charlotte. Once you claim Charlotte as your Levo city you'll be in the loop to receive email updates about upcoming Local Levo events. You can also request to be part of Local Levo Charlotte's private Facebook group. That's where members can promote the awesome things going on in their lives and keep up with other Levo members.
About Levo
Levo is a growing community of professional women seeking advice, inspiration, and the tools needed to succeed.
About Frock Shop Facebook - @frockshoprevival, Twitter - @FROCKRevival, Instagram - @frockshoprevival.
The FROCK Shop began in 2010 as Charlotte's first traveling trunk show featuring name brand and vintage clothing and accessories. FROCK Shop opened their brick and Mortar location in January of 2013 expanding into fine art, antique furnishings, vintage housewares and now carrying sizes XXS ~ 3X. The shop is located in a historic home at 901 Central Avenue, Charlotte NC 28204.